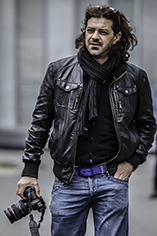 Biographie de l'artiste:
Né à Tunis en 1975, vit et travaille à Paris.
Avant de faire ses premiers pas dans le monde de l'image, Samir Tlatli a poursuivi des études en gestion et marketing (IHEC Carthage). Sa formation en photographie fut longtemps autodidacte jusqu'à ce qu'il décide d'en faire son métier. Après un premier diplôme en réalisation, montage et cinématographie à la Prague Film School, il s'établit à Paris où il complète sa formation en photographie professionnelle et identité visuelle à l'école internationale Spéos photographic institut de Paris.
Aujourd'hui, Samir Tlatli est un artiste multi disciplinaire ; il se démarque par sa manière de faire jaillir, de ses prises de vue, de la matière et des qualités inattendues. Ses images, souvent très techniques et toujours poétiques, représentent souvent une transposition de la réalité révélant une multitude de sens que l'auditeur peut librement interpréter.
Hormis ses projets artistiques personnels, il intervient auprès d'entreprises de renommée internationale pour la réalisation de portraits Corporate ainsi que des films institutionnels. Il a également réalisé des émissions culturelles pour des chaines de télévision privée, ainsi que des courts métrages, dont «Dance of birds», et «World wide words» qui ont marqué successivement leur présence au Short Film Corner du festival de Cannes édition 2013, et 2014.

Biography of the artist:
Samir Tlatli, born in 1975, is a photographer and filmmaker based in Paris.
Before making his first steps into the world of the image, he studied management and marketing at the Institute of high commercial studies in Carthage
HEC
.
Influenced by his father who used to be a director and a producer of cultural programs at the Tunisian Television in the 60s, he became interested in Visual art, until the day he discovered the digital image. Since that time, his form of art has become one of his main forms of expression.
His skills in photography were for a long time self-taught, till he decides to make of the photography his job. He holds a degree in directing, editing and cinematography at Prague film school in Czech republic, and then he moved to Paris where he completed his education with a degree at the International Institute of Professional Photography
The artist is known for the way he makes of his subject, in focus, a storyteller. His poetic images are often a transposition of the reality that reveals a multitude of meanings that auditors can interpret freely.
Today, Samir Tlatli is a multi- disciplinary artist based in Paris. Beside his own projects, he offers his services as a freelancer for prestigious international companies and private televisions. He makes video reports, advertisements, portraiture photography (Corporate), Pack shots (Still Life) etc.
He wrote, and directed short films, genre fiction ; « Dance of Birds » was validated in Cannes Film Festival's Short Film Corner- edition 2013, and « World Wide Words » at the edition 2014.